AND SO IT BEGINS! Hey everyone, with today being Thursday we have the first real big event of E3 which is the Summer Game Fest hosted by Geoff Keighley. We can expect that there will be somewhere in the neighborhood of 30+ games and among them there is a high chance that we will see a trailer for Elden Ring! So, here I am about 8 minutes before the event proper and I will guide you through this whole event with a gleam of happiness in my eye. Will we see something crazy? Will we just see things that people couldn't afford to get into a bigger ticket show? Is it just going to be the 15-player update for Among Us? WHO KNOWS! Let's jump in… well… in 6 minutes.
THIS IS 90 MINUTES LONG
---
Game 1: Tiny Tina's WONDERLANDS.
Fantasy Borderlands with Tiny Tina. Essentially, the team at 2K took the idea behind Tiny Tina's Assault on Dragon Keep and made it into a full game. It's a Borderlands Spinoff, but not a Borderlands game specifically. This game has spellcasting, action adventure and other great insanity that these 2 teams are so great at making. Game comes out Early 2022. Good lord. GIVE IT TO ME!
---
Game 2: Metal Slug Tactics
Grid based tactical Metal Slug. PC Only and it looks like it might be pretty alright? I mean, production quality is high quality as always. I'll probably pass because tactics aren't my jam. No release date, but tactics fans should be pretty cool with this. Definitely feels like this would thrive on phones/tablets.
---
Game 3: Death Stranding Director's Cut
And The Hideo Kojima just kind of showed up and dropped a trailer for something in the Death Stranding world. OH DANG it's Death Stranding Director's Cut! Geoff Keighley wants to be in it. It looks like it'll have some sort of Metal Gear Solid references in it.
---
Game 4: Jurassic World Evolution 2
Jeff Goldblum started talking about something regarding controlling chaos. Oh! It's something Jurassic Park related! I think one of the folks on our team reviewed the first one. Cool! I'm sure he'll be thrilled.
---
Game 5: Lost Ark
A big ol' MMORPG with some impressive production quality. Like, this is super pretty. Big fights seem to be the main draw for this. Here's to hoping it sticks around and doesn't fade away.
---
Game 6: Call of Duty Black Ops Cold War Warzone Season 4
The name is WAY too long. If you love CoD then you already know how good this is going to be for CoD players.
Yawn. Next. Oh, apparently there's a new mainline game coming later this year? Cool I guess.
---
Ryan Reynolds came on screen to show off Free Guy. It looks fun. I'll wait for Netflix and then never watch it.
---
Game 7: Among Us!
Roles! Some variety. New cosmetics and achievements! Looks like there's plenty of stuff in the future for this game. Fun times.
---
Game 8: Chikori
This is a cute little indie game which involves coloring the world and being adorable.
---
Game 9: Salt and Sacrifice
Looks like the team at Salt and Sanctuary are making a sequel and it looks more beautiful than the last one, which is a big statement. You are tasked with hunting mages and trying not to die. Co-Op has been announced for it and it looks tough as nails and comes out in 2022.
---
Game 10: Solar Ash
New trailer! Heart Machine and Annapurna showed off their neon baby that mashes up the art style of Hyper Light Drifter and puts it in 3d and gives off HUGE Shadow of the Colossus vibes. Looks wonderful.
---
Game 11: Chivalry II
This game came out today! 100 million people will play this on Youtube this weekend. Massive medieval combat just loaded to the brim with blood.
---
Game 12: Escape from Tarkov
New map: Streets of Tarkov! Cool I guess. People are still playing Escape from Tarkov? I guess I just haven't heard people talking about it lately.
---
Game 13: Two Point Campus
College maker from the folks who made Two Point Hospital. Will this get Sonic the Hedgehog DLC? IT HAD BETTER! This looks wonderful and I am excited to watch people exploit the heck out of it and make people's lives miserable. It's coming out on EVERYTHING.
---
Netflix? CUPHEAD! We got a few seconds of Netflix Geeked Week which will start showing more trailers and junk starting tomorrow (6/11). Sweet!
---
New publisher Prime Matter is showing off a slew of games that they are working on and I'm 90% sure I saw Pay Day 3. Gungrave! Mount and Blade II. Tons of new stuff full of future-y looking lights and sounds. These look good!
---
Game 14: The Anacrusis
Well this looks like Left 3 Dead, but aliens instead of zombies. Cool! Xbox and Steam. We'll hear more of this probably at either Microsoft's show or later.
---
Game 15: Rocket League X Fast 9
Fast 9 and Rocket league are mashing up (again?) and there's crazy cars! WHO KNEW??
---
Game 16: Vampire the Masqureade: Blood Hunt
HAAAAHAHAHAHAHAHAHAHAHA Vampire Battle Royale. Whatever. It looks fun.
---
Game 17: Dark Pictures Anthology: House of Ashes
For anybody familiar with these games, it's a choice based horror/thriller game. Apparently this involves finding a terrifying underground dungeon/temple. It'll certainly be popular on Twitch for a few days.
---
Game 18: Tales of Arise
New trailer. Feels VERY much like a classic Tales game with the interactions. Combat is looking a little bit better. TONS of new characters and some flashy specials. Looks great. It usually does.
---
Game 19: Sky
Coming to Switch and it has a crossover with The Little Prince! GIMME!
---
Game 20: Planet of Lana
Pretty cute little stylized game with some interesting looking gameplay. The game is hand painted! I'm already sold with the music and the presentation. Huge Ori and Limbo vibes from the monsters they showed. Xbox and Steam in 2022.
---
Game 21: Overwatch 2
Some updated skins apparently. Baptiste and Sombra were showed off. I mean, they look fine. They feel ok, but maybe lacking a bit compared to Overwatch 1. Like, maybe I'm being cynical, but I love the original skins. Whatever. People will pay a jillion dollars to play this game.
---
Paladins gets a crossover with Gen: Lock
I guess people still play Paladins? Good for them! Crossover skins with the Rooster Teeth show Gen: Lock are coming soon. Neat.
---
Game 22: Monster Hunter Stories 2: Wings of Ruin
Lord, how many more trailers for this game do we need? It's gonna be great, we get it. Capcom is on a roll right now and just pumps out gold after gold. But seriously, this is like… trailer 5. Just release already so you can give me a new Mega Man or Phoenix Wright game.
---
Weezer played a song. It was pretty alright. 7/10. I think they're also advertising a Tony Hawk style game with boats? Rivers Cuomo is giving of MASSIVE dad vibes. Good for him. Jeez. He's 50!
Oh! The game is called Wavebreak! Cool! Comes out tomorrow.
---
Game 23: Endless Dungeon
Hero based Rogue-lite dungeon crawler with sci-fi guns. We saw this last year and it looks pretty good! There's some hero aspect to it as well, so it looks good.
---
Game 24: Far Cry 6
Giancarlo Esposito showed up to talk about why he's playing another villain in Far Cry 6. I mean, the man does a great job as a villain (or evil dictator or whatever). He's talking about how his character is a Renegade with a Reason. It sounds cool. I'm optimistic for the story in this game.
---
Fall guys is getting a 2B costume. Well, that's certainly something! This was also followed by a few new characters for Genshin Impact. Uh… cool.
---
Deviation Games, a studio made from CoD and Treyarch showed up to announce a new studio. They took some time to say a lot of fluff that may or may not mean anything important, but they're talking big so they have that going for them. Looks like they've partnered with Playstation! So that's cool! More exclusives for Sony. They could use it.
---
Sonic the Hedgehog orchestra! This is a thing! Evidence once again that Sonic games have incredible music but mediocre gameplay! On June 23re you can tune in to hear the whole performance!
---
Game 25: Back 4 Blood
New boss. New Trailer. Beta starts August 4th. Sign up now.
---
Game 26: Tunic!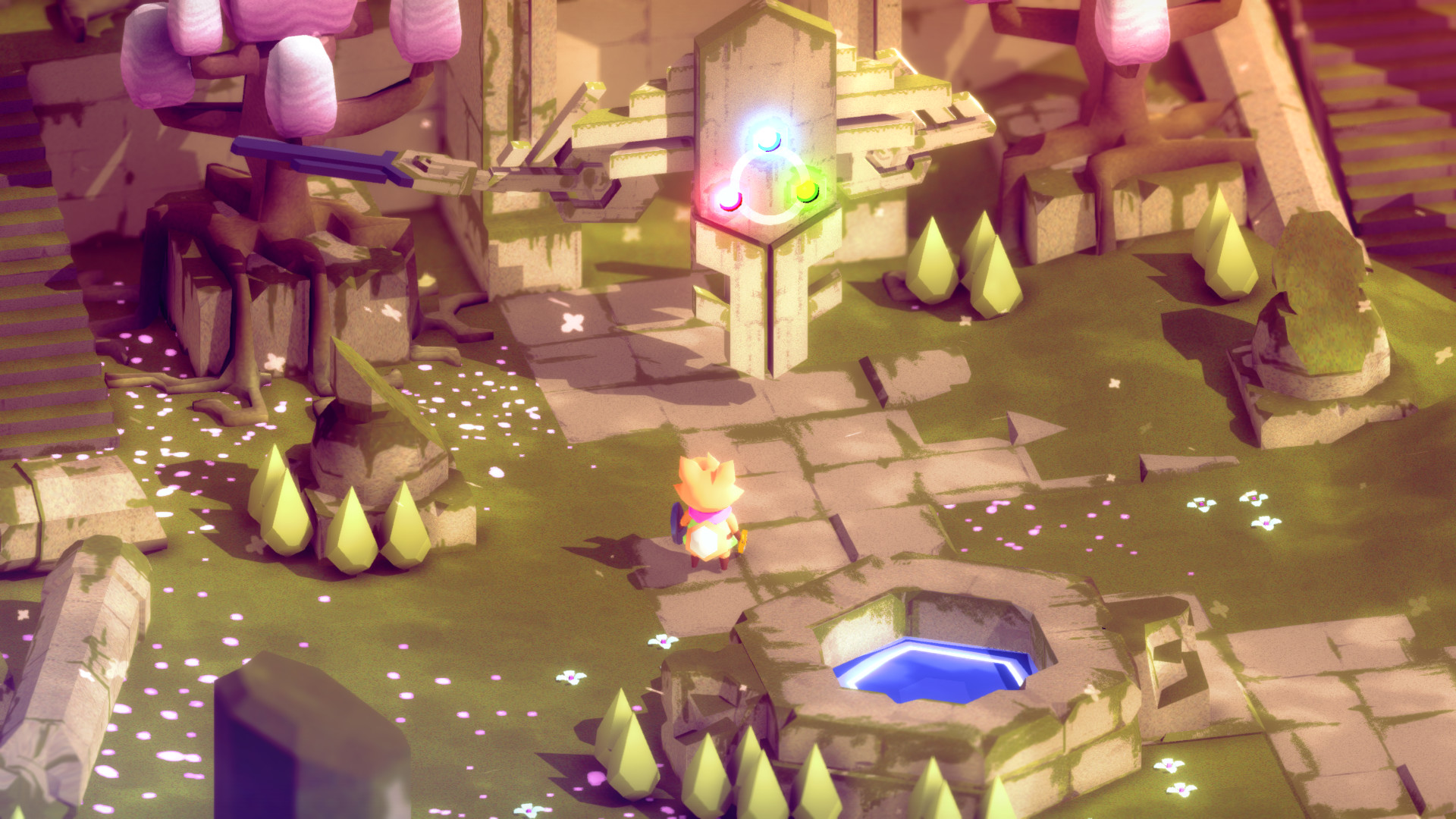 Xbox is doing a demo even next week (starting Tuesday) and Tunic is included! This is easily worth the entire event as Tunic looks incredible.
---
Game 27: Tribes of Midgard
I'm not sure you could throw more genres in here, but it's hack and slash crafting survival defense yadda yadda yadda, it looks flashy and fun. It's nice to see a Viking game that has color in it that isn't just grey. There's giants to fight, but they're all varied. Looks great.
---
Game 28: Evil Dead the Game
Hey! Bruce Campbell showed up! This is extremely violent! The big reveal of this is that you can play as the Candarian Demon (but you'd have to be a DICK to do that. He was very clear on this). Man… there is a LOT of blood in this. 2021. Cool.
---
Alright. Is this Elden Ring? If it's not, this is going to be hilarious. Seriously. This would be amazing if it's like a new Katamari Damacy game.
---
Game 29: Elden Ring
HOT DANG. This looks pretty! So, instead of unkindled, we get Tarnished. This game includes horseback riding, PVP and some GNARLY looking monsters. Dragons, and some DANG fine finishing moves. This game will sell a trillion copies and be the talk of the town for ages. This was certainly worth the wait!
JANUARY 21, 2022!
---
And that's the event! An hour and 45 minutes of new stuff, non-stuff and announcements all around. What were you all hyped about? Elden Ring? It was Elden Ring, wasn't it. Yeah. It was Elden Ring. I'm super excited for Tiny Tina's Wonderlands. That game is gonna be sick!