Hey, remember how the last two weeks were fairly slow and I kind of solemnly mentioned that I hoped things were going to ramp up soon? Well, it looks like I certainly got my wish because this week is a DOOZY! So, let's get into that big ol' news sandwich because it's looking pretty tasty!
Before We Begin
Some of you might have heard about a leak of near CATASTROPHIC proportions that came to light this week, and I'm not talking about how somehow Age of Calamity leaked. Instead, I'm talking about Capcom, beloved makers of Mega Man, Devil May Cry and Monster Hunter. Turns out that this week had an enormous leak of information (most of which very exciting if it's true), but we're not gonna talk about it here. Believe me, I wanna, but usually, I can look past where the information comes from, but this is different. See, this information came at the cost of Ransomware. This information, including a not-insignificant amount of personal information, was literally extorted out of a company that worked hard on these projects, and as such, I don't feel like it's something I want to talk about. So, if you're looking for our coverage of that whole fiasco, you're not gonna find it here. We'll cover it when it becomes a reality (and I hope like hell that it's soon).
NieR-ly Within Our Grasp
If you're anything like me, you probably have that friend that won't shut up about Nier Automata. I have a few of my own, but it looks like we on the Switch might finally be able to get a piece of that pie after all these years. Amazon shows a listing for NieR: Replicant as well as a port of the Prince of Persia: Sands of Time Remake. I'm excited! I hear that this game is great and the new gameplay looks pretty smooth so count me in as a fan of this news. Given, we've heard that Amazon announced ports that never ended up happening, so keep an eye out for this. Looks like NieR will be heading to Switch in April.
Miyamoto Gets His 68th 1-UP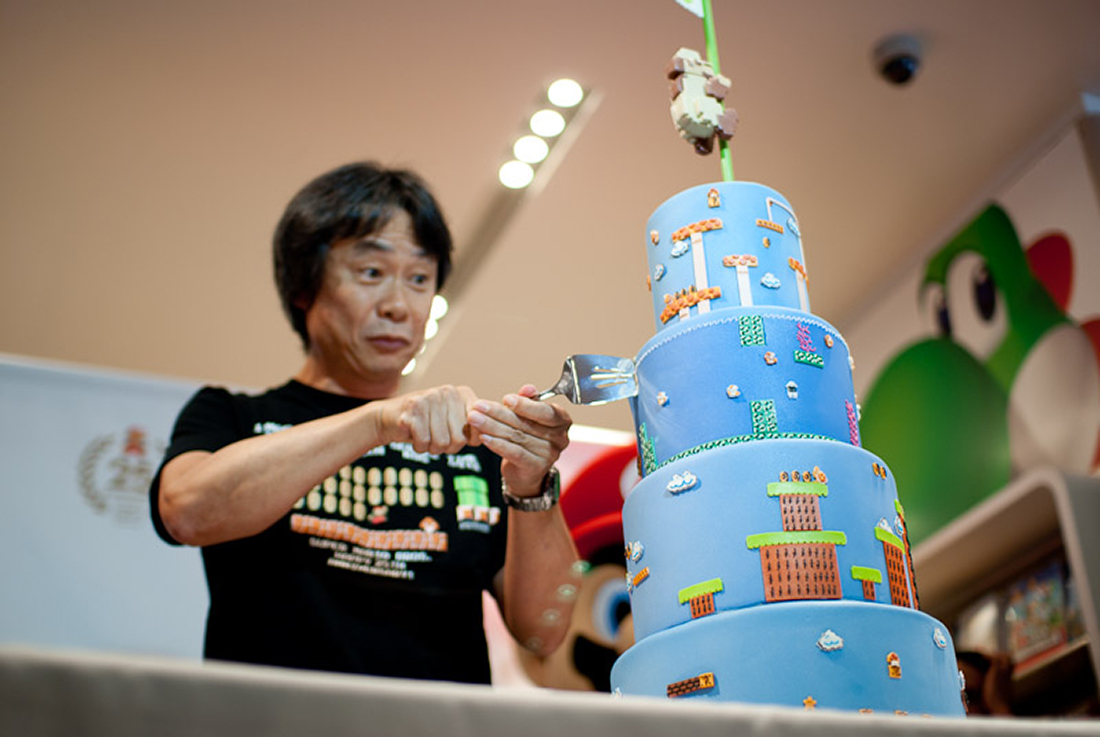 A very happy 68th birthday to Shigeru Miyamoto, resident genius over at Nintendo and creator of some of the finest video game franchises we know! He seems to be in good health and in good spirits, so It's good that 2020 hasn't sucked ENTIRELY for us this year. Good on him. May he reign for many years to come.
Putting a Pin In It
Lucky for you fine folks out in the EU/UK, because it looks like Nintendo UK is doing a super cool giveaway this entire month. Every day you can interact with their Mario 35th Anniversary "Prize Days" page and enter to win both their prize of the day as well as their massive grand prize! Daily prizes range anywhere from special edition pins of classic Mario titles to what might actually be the most garish suit I have ever seen in my life. I mean LOOK AT THIS:
Oof. Well, there has to be somebody out there who wants it. All yours, folks.
Luke… Use The… Uh… Pickaxe
Minecraft released their Star Wars expansion! The expansion contains a pretty hefty amount of skins, creatures and characters so you can recreate your own favourite Star Wars scenes but, you know, blockier. It's out now and the whole DLC pack will run you around 10 bucks.
Black Friday Brings the Heat
Walmart decided to really drive it home this November and give us all a break after the suck-nado this whole year has been with a HELL of a deal. A pretty hefty list of Nintendo first-party titles are half off. Here's a list of what's on that stack of deals:
Super Smash Bros Ultimate
Animal Crossing: New Horizons
Luigi's Mansion 3
Link's Awakening
Super Mario Party
Mariokart 8
Super Mario Odyssey
Fire Emblem: Three Houses
And a few more
It's a big deal when Nintendo drops prices of their big hitter games, so jump on this if you can. Deals like this are rare.
An Update That Should Have Been Standard
Remember when Super Mario 3D All-Stars released a few months ago? Remember how things that fans were hoping for weren't in it, like improved versions of the games we all loved? Well, one of those big things that made people confused and frustrated was that Super Mario Sunshine didn't support the use of a Gamecube Controller. Well now, LITERALLY TWO MONTHS LATER, you can finally do that! Why it took this long still confuses me, especially where Gamecube controllers are already compatible with the Switch, but whatever. Sunshine isn't great anyway (I know, Hot take). MOVING ON.
Putting Some Skin(s) In The Game
You might remember us talking about the Metroid theory last week, so if you remember that, you'll remember that it came with the news that there was a new skin you could decorate your console with! If that excited you then DO I HAVE MORE NEWS FOR YOU! It looks like Nintendo went in to overdrive in releasing new skins ranging from just about every franchise Nintendo has. I mean.. franchises they care about. No Starfox here, friends. Each skin runs about 20 bucks, so if this is your jam , go crazy.
Now You're Walking with Power
Man, I'm telling you, this week was just ANNOUNCEMENT CITY! From skins to rumours to whatever else we got, we get all of that topped with a pretty great looking pair of shoes from Puma. I mean, these babies look really good! With the NES colour theme, the power button tag and the classic Mario Bros image on the tongue, I might just spring for a pair of these myself! No word on how much they are yet, but you can grab them on Dec 4.
Let's a (LE)GO! (Again)
Series two of the Super Mario LEGO set was announced earlier this week (much to the sadness of our Editor's wallet) and it looks to add some new power ups, enemies, and scenarios. Including one of my favorites: the Chain Chomp.
We also get some new power-ups like the Raccoon Suit and the Penguin Suit. The sets look great (and expensive!) but I know my kids will love the crap out of them. Look forward to blowing all of your hard-earned money this Christmas as you throw all that sweet dough on LEGO.
Seven Days…
It doesn't feel like that long ago when Square-Enix re-released The World Ends With You for the Nintendo Switch, but leave it to them to announce something crazy out of the blue like this. From the looks of it, we're probably getting a second game in the series, which would be pretty amazing in all reality. This game has a pretty dedicated fan base and some of the characters even made their way into the Kingdom Hearts games! I think we should expect something wild from this title.
Holidays in Paradise
Animal Crossing is getting its holiday update and it brings up some nice little additions with it. Storage capacity can be increased a pretty hefty margin if you have your house maxed out, so that'll be nice for the hoarder in you. Added to that, we get the thanksgiving and Christmas events that both happen on their respective dates, so that's cool. The event is live now, so if you're still hanging out of "INSERT NAME OF YOUR ISLAND HERE" Island it looks like you have some more fun stuff headed your way!
It's a Good Thing We Waited a Day
We had a lot of things to publish on Thursday, so imagine my surprise when this got published a day late and THIS bombshell dropped! A few Asian retailers online have posted the release date for Persona 5 Strikers, but more specifically the addition of full English localization on those versions. This means that, while we won't be getting this specific version in the rest of the world we do know that the localization work is nearly done. PLEASE let this mean that they're doing a global release!
---
That about does it for me this week! This week was a DOOZY and I have plenty to look forward to. I mean, that and Age of Calamity dropping on Friday. It's a good week and I think it'll keep getting better from here. And if not, I mean we've all weathered this year so far. We can pretty much take anything at this point (I promise you I'm not tempting fate here).
I'm gonna go while the getting is good.